Pure Effect All Clean – Start Kit 300ml
Regular price
Sale price
€25,00 EUR
Unit price
per
Sale
Sold out
Everything you need to get started. All Clean is the heart of Pure Effect's biotechnology cleaning concept. Provides 6 months* of all-round cleaning for your entire home. Replaces "Allrent" – now with easier dosing and higher concentration.
The unique formula is based on an active bacterial culture that effectively breaks down grease, dirt and odors. A whole-home cleaner simplifies both your daily routine and major cleaning. Includes spray bottle (300ml) for mixing, and concentrate (30ml) that makes 20 spray bottles of mixed All Clean.
Application:
All Clean is used on all water-resistant surfaces - toilets, windows, mirrors, stainless steel, ceramics, kitchen counters, stain removal on textiles and more. Also spray on the floor around the toilet to prevent odors. Gentle on the materials in your home and perfect for cleaning delicate materials like marble and other porous stones.
Keep All Clean close at hand by the sink. The small bottle replaces both toilet cleaner, window cleaner and traditional all-purpose cleaners. For extra tough challenges, such as limescale that requires an acidic pH, feel free to supplement with specific problem solvers from Pure Effect. Also available as All Clean refill.
More Informations

Remember:

... to re-oil wood materials from time to time to keep them lasting and looking good. All Clean is pH-neutral and gentle, but feel free to re-grease wood countertops and floors as needed.


Dosage:

Gently shake All Clean concentrate before use to mix the contents. Fill the spray bottle with water and drop in two (2) pipettes of All Clean concentrate. Mix into a new spray bottle every two weeks for best results. *6 months of all-round cleaning based on mixing a new spray bottle every two weeks.

Ingredients:

5-10% non-ionic surfactant
<5% amphoteric surfactant, preservative (phenoxyethanol), color, perfume
also contains bacterial culture, active fermentation extracts and water

Shelf Life:

opened bottle has a shelf life of 2 years
store like other cleaning products
normal room temperature, not in direct sunlight

Environmental Information:

product is readily biodegradable
carton is disposed of as cardboard, the glass bottle and pipette tube as glass, and the pipette cork as hard plastic
Share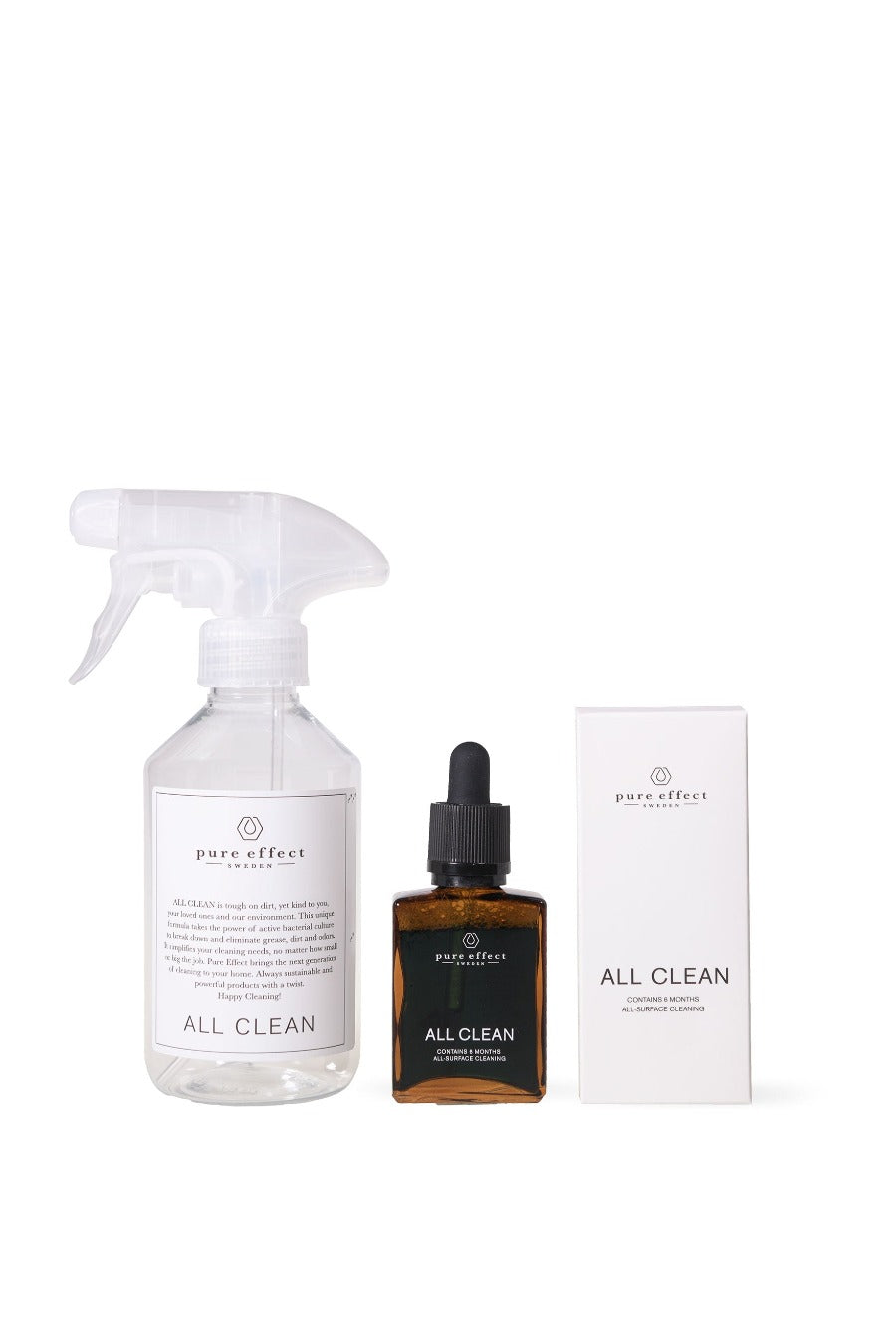 Free Shipping

We offer free shipping on all orders over 35€. You'll receive your order an estimated 1–4 days after shipment.

Come and visit us!

If you are nearby, visit us in our shop in Kavala-Greece. We will be happy to advise you personally!

Opening hours