Pure Effect Clean Bath 1000ml
Regular price
Sale price
€19,50 EUR
Unit price
per
Sale
Sold out
Tougher dirt requires special treatment. Clean Bath (formerly Bad- & Kalkrent) is a cleansing cream that effectively removes deposits from lime, soap and shampoo, among other things. Really clean joints and extra shine on stainless steel, tiles (porcelain/sink) and shower glass walls. Based on active fermentation extracts from yoghurt bacteria (pH 3.5). Contains 1 liter of ready-mixed cleaning cream.
Application:
Pure Effect Clean Bath is a biotechnological cleanser, which effectively removes and prevents deposits from, for example, soap, shampoo and lime. Removing limescale residues requires an acidic pH and Clean Bath is an effective and user-friendly replacement for strong acids.
Ready-mixed for direct use on stainless steel, chrome, ceramics, grout, in toilets, sinks, bathtubs, on taps, shower glass walls and in sinks. Pour Clean Bath onto a sponge/cloth and spread evenly over the surface. Rinse off with water or wipe with a damp cloth. Wipe with a dry cloth to avoid water streaks on shower glass walls, for example.

Remember:
Clean Bath is an acidic product (pH 3.5) and may have a bleaching effect if left on the surface before wiping. Therefore, limit its use on sensitive materials, such as marble and other porous stones that may stain. On these surfaces we recommend Pure Effect All Clean.
Dosage:
Ready-mixed for direct use. 1 liter.
Ingredients:
<2% amphoteric surfactant
<2% non-ionic surfactant, active fermentation extracts, L-lactic acid, perfume and water
More Informations

Shelf Life:

opened bottle has a shelf life of 2 years
store like other cleaning products
normal room temperature, not in direct sunlight

Environmental Information:

product is readily biodegradable
packaging is made of recyclable plastic and is disposed of as hard plastic packaging
Share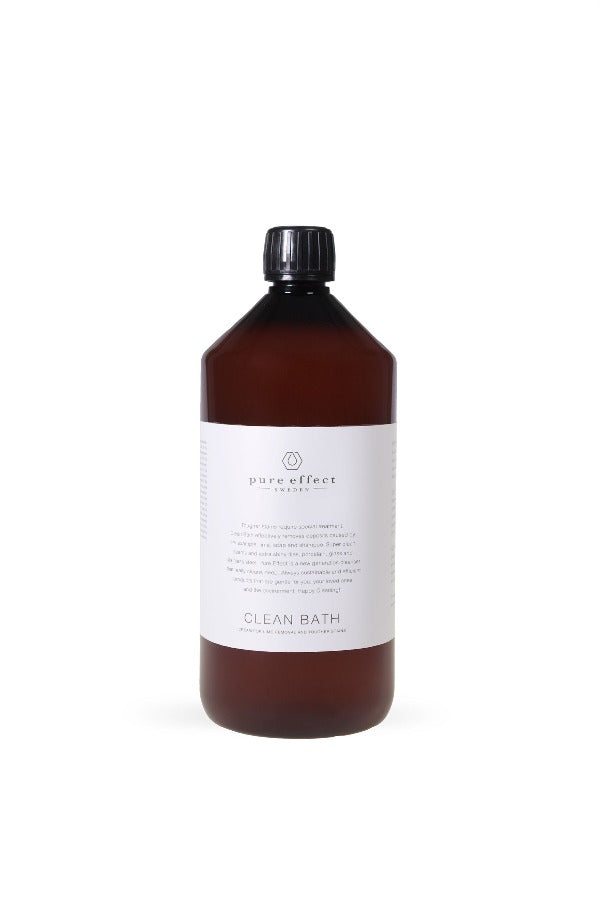 Free Shipping

We offer free shipping on all orders over 35€. You'll receive your order an estimated 1–4 days after shipment.

Come and visit us!

If you are nearby, visit us in our shop in Kavala-Greece. We will be happy to advise you personally!

Opening hours