Pure Effect Clean Floor 300ml
Regular price
Sale price
€19,50 EUR
Unit price
per
Sale
Sold out
Clean Floor gives you comfortable barefoot floors and effective cleaning in the smallest pores of flooring materials. Our unique formula is based on an active bacterial culture that breaks down grease, dirt and odor. Cleans deep down and stays active even after cleaning. For all water-resistant floor types; tiles, plastics, laminates, treated wood floors etc. 300ml concentrate, gives 60 liters of mixed Clean Floor.
Application:
Clean Floor deep cleans in the crevices and pores of the floor's surface, effectively breaking down grease and organic dirt. The bioactive ingredients continue to work even after cleaning, preventing and removing bad odors. Clean Floor is gently pH-neutral and does not attack polish or wax. Use Clean Floor on all types of water-resistant floors; tiles, plastic, laminate, treated wood floors, etc.
Remember:
... to re-oil wood materials from time to time to keep them looking good. Clean Floor is pH-neutral and gentle, but feel free to re-oil if necessary. Avoid use on untreated wood floors.
Dosage:
In bucket (1:200): Mix 15ml of concentrate in 3 liters of cold/warm water. 30ml concentrate is mixed in 6 liters of cold/warm water. Clean Floor is highly concentrated and long-lasting. Both you and the environment benefit from diluting the product yourself, but be sure to use the correct dosage (1:200). 300ml concentrate gives 60 liters of Clean Floor.
Keep In Mind To:
shake the bottle gently before use
always re-stain untreated wooden floors if necessary
clean floor is pH-neutral and gentle, but breaks down grease
For extra tough challenges, such as limescale that requires an acidic pH, feel free to supplement with the specific problem solver Clean Bath from Pure Effect.
Ingredients:
5-10% non-ionic surfactant
<5% amphoteric surfactant, preservative (phenoxyethanol), perfume
also contains bacterial culture, active fermentation extracts and water
More Informations

Shelf Life:

opened bottle has a shelf life of 2 years
store like other cleaning products
normal room temperature, not in direct sunlight

Environmental Information:

product is readily biodegradable
packaging is made of recyclable plastic and is disposed of as hard plastic packaging
Share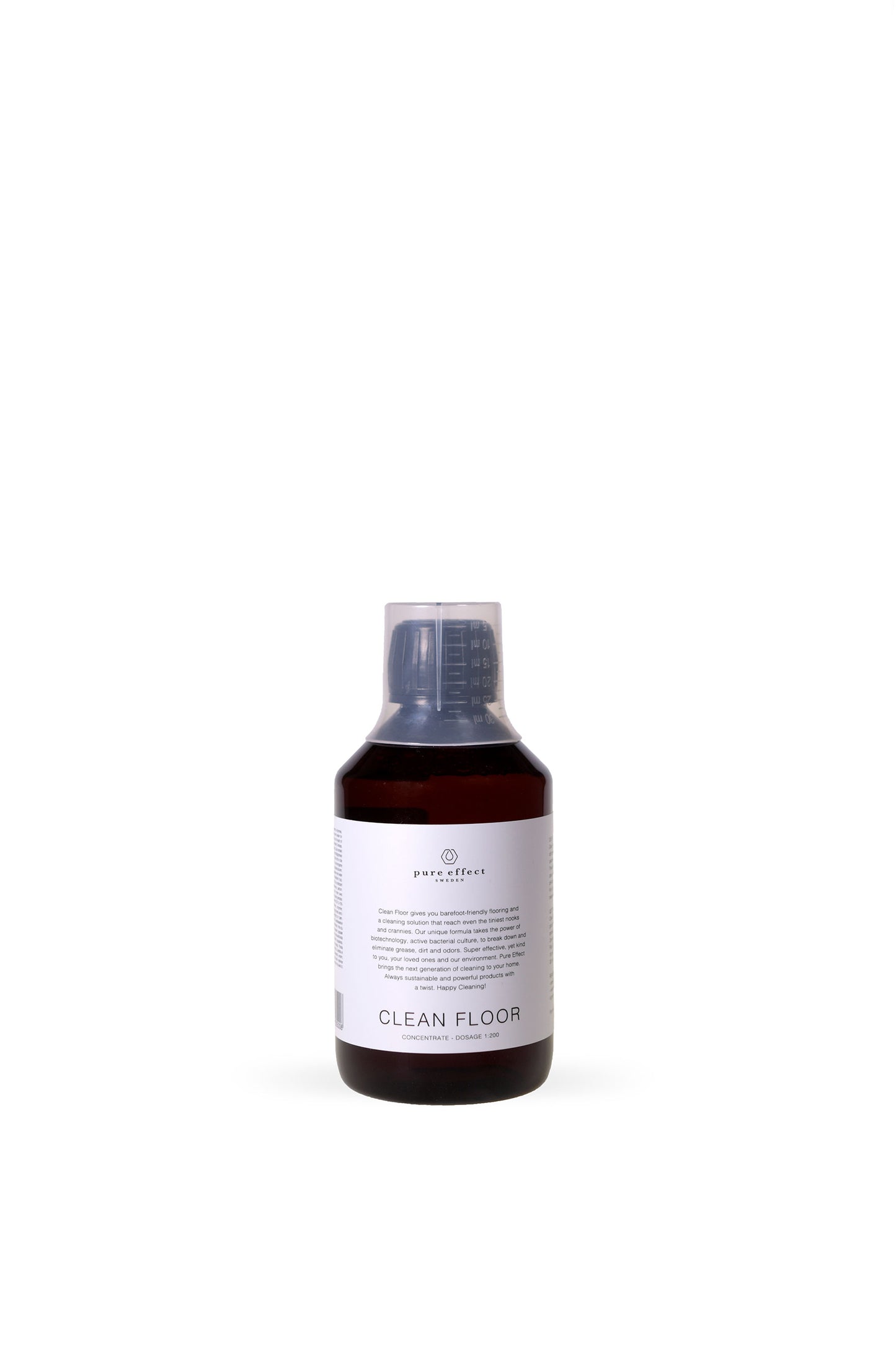 Free Shipping

We offer free shipping on all orders over 35€. You'll receive your order an estimated 1–4 days after shipment.

Come and visit us!

If you are nearby, visit us in our shop in Kavala-Greece. We will be happy to advise you personally!

Opening hours