Pure Effect Textile Mist 500ml
Regular price
Sale price
€29,50 EUR
Unit price
per
Sale
Sold out
Refresher for all types of textile materials. Removes odors and also many organic stains. 500 ml for frequent use on clothes and shoes, as well as for larger surfaces, such as textile furniture, carpets, upholstery, etc. 
Gives your textiles a fresh freshly washed feeling - without traditional machine washing. Extends the time between washing, and the life of hard-to-wash textile items such as furniture, shoes, equipment. A smart alternative to dry cleaning. Lightly perfumed, but the real power is in the bacterial culture that removes the source of odors you don't like. Kind to people, materials and the environment. Antistatic effect and pH neutral. With a faint scent of 03 Green leaves & Cucumber.
Use:
Hang the garment, spray and repeat as necessary. Lay/set the furniture/carpet airily and cover the surface with mist. Also perfect for more delicate materials such as wool, cashmere, silk, silk, down and sportswear. Deep cleaning and keeps your materials fresh with preserved function, thanks to gentle and neutral pH. For all layers in sports and outdoor clothing - materials that insulate and breathe, are windproof and waterproof. Also perfect for more elegant materials such as silk, embroidery, feathers and sequins. 

Dosage:
Spray on the surface you want to treat, not straight into the air like a perfume. Repeat as needed. Both stains and odors may need to be treated several times over a longer period of time.

Remember to:
- spray directly on the spot you are treating, and over the entire surface you are treating against odor.
- take care of stains as soon as possible.
- wipe the stain, spray and then dab it with a wet/dry cloth. Never rub a stain, to avoid it being pressed into the textile fiber. Please see more tips at www.pureeffectsweden.com/textilecare
Contents:  < 5% non-ionic surfactant, bacterial culture, perfume,  preservative (2-bromo-2-nitropropane-1,3-diol).
Shelf life:  Opened bottle is stable for 2 years. Store like other cleaning products. Normal room temperature, not in direct sunlight.
Environmental information:  The product is easily biodegradable. The packaging is made from recyclable plastic and is source-sorted as hard plastic packaging.
Share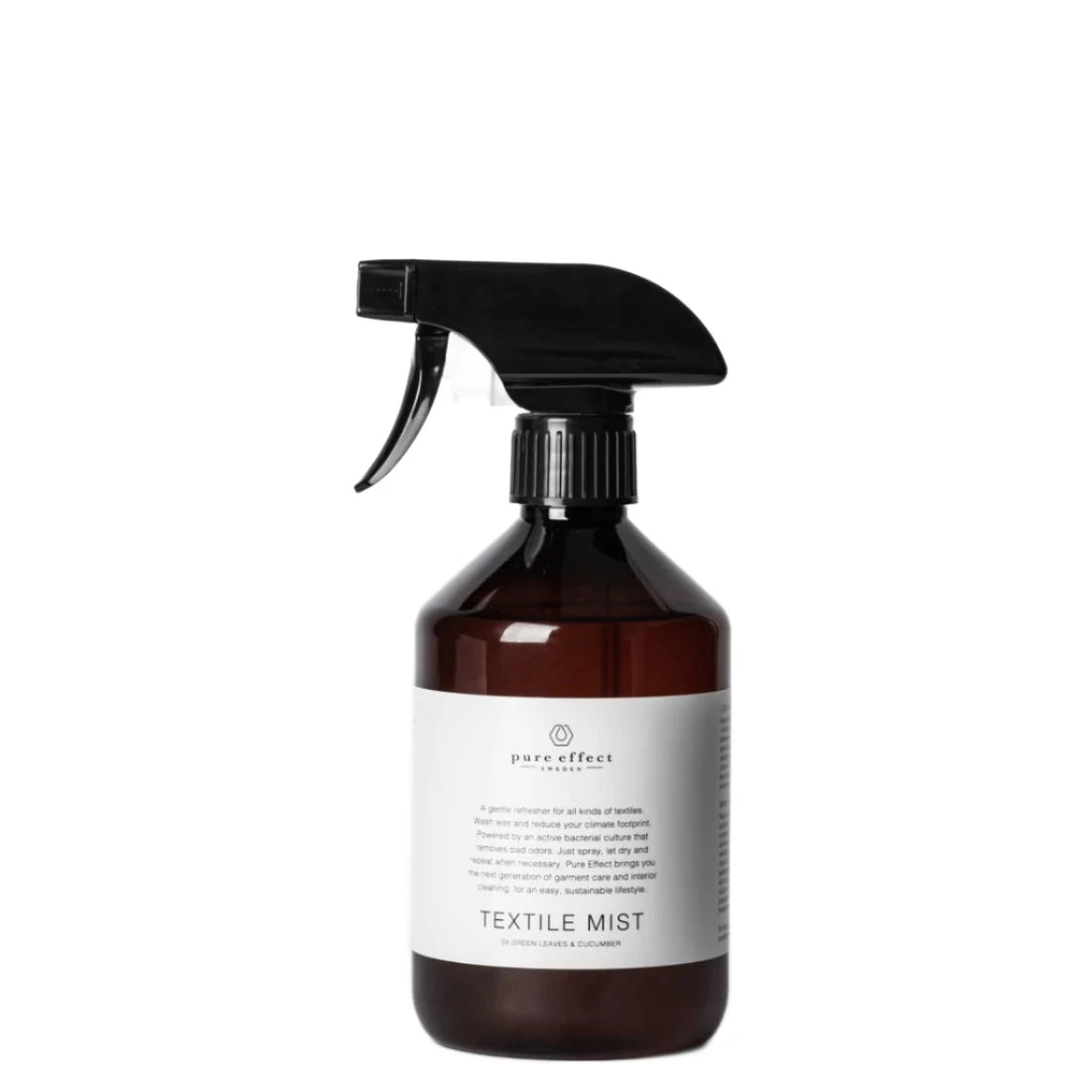 Free Shipping

We offer free shipping on all orders over 35€. You'll receive your order an estimated 1–4 days after shipment.

Come and visit us!

If you are nearby, visit us in our shop in Kavala-Greece. We will be happy to advise you personally!

Opening hours