Rhizome Sample Pack
Regular price
Sale price
€29,00 EUR
Unit price
per
Sale
Sold out
Enter our discovery set! A cotto bag including all eight our Eau De Parfum 1,5ml testers. 
01 is a fresh and gentle eau de parfum for men and women. The formulation was born from two key inspirations: the clear notes of incense and patchouli, mixed with eastern elements of cumin and nutmeg.
02 is a net and vigorous eau de parfum for men and women. The formulation was born from two key inspirations: the decise notes of cedar and leather with the natural ones of labdanum and vanilla.
03 is a proper journey in orange and lemon groves, where air is freshly spiced. This fresh and evocative Eau de Parfum is conceived for men and women. Citrus fruits nots are mixed with basil and vetiver to create an important yet very balanced structure for this fragrance.
04 is an eclectic mix of inspirations and different scenarios. Oud, vetiver, white musk are the key-notes that create this explosive Eau de Parfum. 04 is an intense fragrance where woody and smoky notes give full character to this Eau de Parfum for men and women.
05 is a spicy and fresh Eau de Parfum for men and women. Amber and caraway notes are perfectly balanced to create an oriental yet refined fragrance. A rich and persistent perfume that represents faraway landscapes and environments. An adventurous journey through classic fragrances. 05 is a true cult of perfumery.
06 is our way of celebrating the awakening of nature. Amber is the perfect base for a blend of floral and talc notes. This fragrance has a unique consistency in its base notes. Simple and direct at the same time is the perfect companion for warmer days.
TROPICAL DANCE: A rhythmic dance of joy on a tropical island. This fragrance finds its inspiration in the flavory sweetness of fruits and the resinous richness of tropical environments. A proper journey that reminiscent of holidays, late night adventures in faraway latitudes.
DESERT DUSK is a fragrance of contrasts. It is as dry as the desert and as green as an oasis. We imagined being in the desert at dusk, as the environment starts chilling and as the vegetation releases its natural scents. A woody and botanical heart is the true essence of this fragrance, balanced by a dry head and warm base.
Share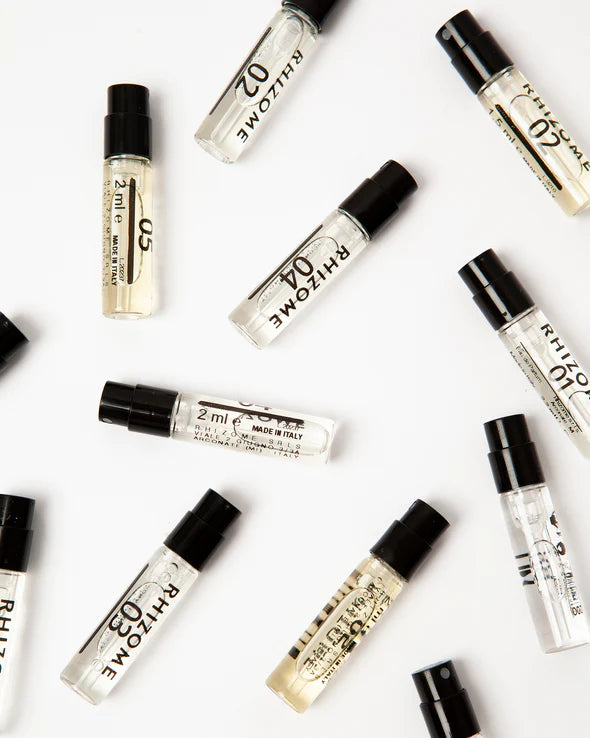 Free Shipping

We offer free shipping on all orders over 35€. You'll receive your order an estimated 1–4 days after shipment.

Come and visit us!

If you are nearby, visit us in our shop in Kavala-Greece. We will be happy to advise you personally!

Opening hours